1 event,
Steigert was born in Hamburg, New York on December 31, 1986. His parents were Warren Richard Steigert and Jean M. Sanders, and he was raised by his grandparents, William and Kathleen Sanders. He formed the production company DefTone Pictures Studios with Stephanie Wlosinski, writing and directing the 2008 film Bitez and the 2009 film Gore. He later wrote, directed, and produced the short grindhouse films Black Guy on a Rampage, Black Guy on a Rampage: Homicidal Vengeance, and Black Guy on a Rampage: Angel of Death between 2011 and 2012. In 2013, Steigert wrote and directed the science fiction film Ombis: Alien Invasion, which was later re-titled Not Human. In 2014, Steigert directed, co-wrote, and co-edited the comedy horror film A Grim Becoming. Steigert then directed, co-wrote, and produced the 2017 film STAR . His next project, a werewolf-based horror film titled Fang, is scheduled for release in 2018. Eveil 
1 event,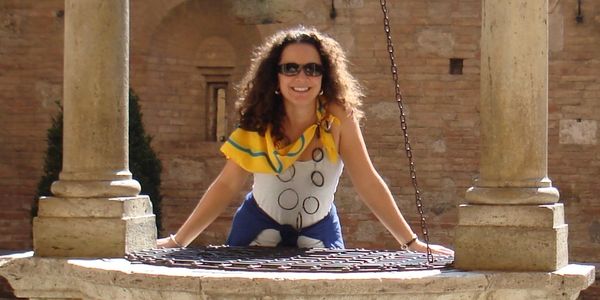 https://ginafava.com/ Gina Fava is the author of many award winning short stories and her acclaimed novels The Race, Formula and The Sculptor (Best Mystery/Suspense Ebook by Indie Book Awards). Readers compare her stories to those of Harlan Coben, Lisa Gardner, Lee Child, Dan Brown, and Daniel Silva. Gina also writes feature articles on travel, Italian culture, art, wine, cooking, books, and cinema, and has released a collection of recipes and essays in her latest work, entitled Un Momento: A Taste of Italian-American Pastimes. Gina is currently writing her next book, a novel rich in historical fiction and family saga. Born and raised in Buffalo, NY, Gina is a relentlessly loyal Sabres and Bills fan. She graduated the University at Buffalo and later earned a law degree but it was the bomb scares, run-ins with the Italian military intelligence service, and car chases she endured while studying at the American University of Rome that spurred her interest in writing heart-pounding thrillers. Gina lives with her husband and kids and their dogs, Lupo and Siena, in New England. She loves making pasta with her family, binge-watching James Bond movies, reading other people's suspense novels, and roaming Italy to hunt down her characters' favorite wines.
1 event,
About QCRD 2020 Queen City Roller Derby | Photo by Rene van Ee Mission Queen City Roller Derby (QCRD) is a skater owned and operated flat-track roller derby league in Western New York. QCRG is continuously committed to the reviving and redefining of the classic sport of roller derby, with a 21st century twist. Flat-track roller derby is a full contact sport played by independent, strong athletes. The League provides an opportunity for athleticism, camaraderie, and self-expression. We inspire on and off the rink; we serve the community, get fit, and have fun. Vision QCRD will prosper as a League as our skill and our sport grows. We will promote development and recognition of flat-track roller derby internationally by collaborating, competing, and building camaraderie with sister leagues. We will become a self-sufficient organization through creating our own niche market. We will remain an organization of and for our members, with powerful ties to our community and to each other. We will support our community through charitable giving, volunteerism, and awareness, all the while, participating in community events to continue visibility for ourselves and our sponsors. History Flotorious & Sissy Fit | Buffalo News Queen City Roller Derby was founded in 2006 as Queen City Roller Grils by two best friends inspired by the A&E series "Rollergirls." This reality show chronicled the TXRD Lonestar Rollergirls' alter egos, friendships, triumphs, struggles, and the riveting bouts. Sissy Fit and Flotorious recruited like-minded skaters and volunteers, and built the league from the ground up. They spread the word online and with fliers at local hang outs, coffee shops, and colleges. Rainbow Rink in North Tonawanda was receptive to these efforts, and permitted recruitment activities at open skate sessions, which lead to booking private practices. Since our inception, the mission of Queen City Roller Derby was to create a place where our members could live out that alter ego, continue playing sports into adulthood (or discover those joys for the first time), form lasting friendships, and improve our surrounding community. In January 2007, the league's thirty skaters formed three teams; the Devil Dollies, Nickel City Knockouts, and Suicidal Saucies. Many of those players are still involved today! Our first bout was held on February 10, 2007, an expo titled Slugs n' Kisses. "SnK" sold over 400 tickets! To operate, we relied on financial support from fundraisers like "Rock 'n' Roller Derby" at Mohawk Place and the 80's prom "Debutante Brawl," as well as support from FWS, Al Cohen's Rye Bread, and Vertasource. Camaraderie grew to be as important as athleticism. If you had dedication and a pair of skates, we would train you. By our third year, we added a fourth home team, the Alley Kats. Despite our youth as a league, we consistently drew sell-out crowds of over 1,000 fans. The league's success resulted from the efforts of its all-volunteer composition and the love of our fans. We have been covered by almost every major local news source, including a cover story in Buffalo Spree. Team QCRG @ DC, 2008 | Photo by Fritzenfrat At this point in our history, the all star squad,"Team QCRG," began to play other league travel teams. These opponents hailed from cities such as Tampa, Toronto, and Washington D.C. Team QCRG grew and evolved into our current Charter team, the Lake Effect Furies. In 2010, QCRD applied for apprentice status with the Women's Flat Track Derby Association (WFTDA), and were granted full membership a year later. The Lake Effect Furies began competing for rank within WFTDA's eastern region. In September 2012, QCRD had the honor of hosting WFTDA's North Central regional tournament in Niagara Falls, NY. From across the north central region, ten teams , officials, and fans gathered for three days of intense roller derby competition. QCRD stepped up and showed the derby world what being an amazing group of people from western New York means. A short year later, for the first time in league history, the Furies qualified for and played in the WFTDA 2013 Playoffs. The Furies competed in the Division 2 tournament held in Kalamazoo, Michigan, and placed 9th. Photo by Rene T. Van Ee Community involvement has always been a significant part of our mission and identity. We regularly volunteer with multiple organizations, including but not limited to, Habitat for Humanity, Brush Up Buffalo, Children's Hospital, Ride for Roswell, and Buffalo Re-Use/Re-Tree. In addition to contributing our time, we donate a portion of all ticket sales to a designated charity. We've handed "big checks" to many organizations such as the Girls Sports Foundation, Crisis Services, and the Food Bank of WNY. QCRD has grown to over 120 members, which include competitive skaters, officials, and volunteers. It is more difficult to be a bouting skater than years past, but aspiring players still join year after year. The Dollies, Kats, and Saucies are still battling it out for the Queen City Cup every season, our B level travel team, the Subzero Sirens, strive to perfect their skills, and the Lake Effect Furies are continuing their quest to the top of the WFTDA charts. WFTDA As a member of the WFTDA (Women's Flat Track Derby Association), Queen City Roller Derby are among the ranks of over 392 skater owned and operated leagues nationwide that have united to lead the growing sport of women's flat track roller derby. WFTDA member leagues engage in sanctioned interleague play, including playoff tournaments. Queen City Roller Derby, represented by the Lake Effect Furies, currently participates in Division 1, which is for teams ranked 1-40. Founded in 2004, the WFTDA promotes and fosters the sport of women's flat track derby by facilitating the development of athletic ability, sportswomanship, and goodwill among member leagues. The governing philosophy is "by the skaters, for the skaters." Women skaters are primary owners, managers, and operators of each member league and of the association. WFTDA's operational tasks include setting standards for rules, seasons and safety, and determining guidelines for the national and international athletic competitions of member leagues. All member leagues have a voice in the decision-making process, and agree to comply with the governing body's policies. For more information, visit www.wftda.com. QCRD became a WFTDA Apprentice league in 2010, and became a full member in 2011. As mentioned previously, WFTDA organizes and produces D1 and D2 playoff tournaments at the end of the competitive season each year. In September 2012, QCRD had the honor of hosting WFTDA's North Central regional tournament in Niagara Falls, NY. The Furies qualified for WFTDA Division 2 Playoffs during both the 2013 and 2014 seasons, and Division 1 for 2015, 2016, and 2017.
1 event,
About Dennis: About Me Hi. My name is Dennis Preston. I have always been interested in art, ever since I got the Artist of the Month award in first grade. I was always drawing and sketching in school whenever I could. When I finished high school I set out to the American Academy of Art. Where I majored in Illustration, but that's not all I do. Knowing that the art world is tough and very competitive, I decided to widen my expertise, become a jack of all trades, so to speak. But the one thing that I have always loved the most is horror films and special effects, so I decided that make up effects and filming would be my main focus. Now I freelance creating props and special effects makeup work for independent filmmakers in and around the Chicago area. I am also a photographer for the majority of my projects. I have recently been doing a lot of body painting to get more surreal beauty shots in my portfolio. Feel free to message me if you need me for: - Special effects Makeup - Body Painting - Photography - Illustration